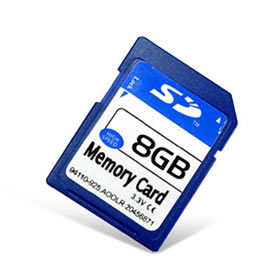 SD Memory Card
8GB SD Memory Card - SD Memory Cards for Nikon Digital Cameras

1 Year Warranty! 25% OFF!
Capacity:
8GB
Operating Voltage:
2.7V~3.6V
Speed:
Class6(6MB/sec) for writting and reading
Description:
Capacity: 8GB, Can be used in standard SD Card slots
Oprating Temperature : Minus 25 degrees to 85 degrees
Storage Temperature : Minus 40 degrees to 85 degrees
Durability: 10,000 insertion/removal cycles at least
Great for storing pictures, music, data ect. The Secure Digital Cards have been designed to comply with current and future SDMI (Secure Digital Music Initiative) portable device requirements - Use in many digital devices including camcorders, cell phones, PDA, digital cameras, MP3 players and more
Low power consumption
1 year warranty!
Secure & Guarantee
Shopping from us is safe and secure. None of our customers have ever reported fraudulent use of their credit cards as a result of shopping with us. You can be assured that the information you give us is confidential. We do not sell, rent or share information of our customers with other parties.